What Does it Mean to Get a Full Set Manicure at a Nail Salon?
|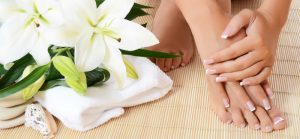 When someone refers to a full set manicure, what they are talking about is having gel or acrylic nails applied to every nail on the hands. This also involves a nail technician in a nail salon in Mandarin, FL, working on your cuticles and filing down your natural nails for the best application of the new set of nails. However, there are other options as far as manicures go. We'll look at what you should know below.
Manicure Procedures
A manicure of any type will start with the removal of any color and dirt on your fingernails. A manicure technician will then file the nails into the appropriate shape. After that, your nails will be soaked, and the cuticle will be groomed around the nail. Next, the technician will apply a primer or base coat followed by additional coats of polish, including a top coat which provides shine.
Natural Manicures
When you go in to have your natural nails done, the technician will make them the desired shape and then make them all the same length. Your nail salon in Mandarin, FL, may also provide a hand massage. While you may think of a manicure as something only for women, many men also use this type of service to have a well-groomed look.
Full Set Manicures
With a full set manicure, your nails will be trimmed and filed with a rough file, which makes it easier for the manufactured nails to grip. You may choose to have clear or white plastic tips glued to the nail, which will add shape and length to your nails. Fiberglass or acrylic power is combined with a liquid, which is applied to your nail and tip. This will then be shaped further with a brush before drying. At that point, the nails can be shaped and filed further.
Nail Maintenance
The maintenance needed for natural manicured nails is simple and can be done at home. All you need are nail polish and fingernail files. With full set of manicures, there is more need for upkeep. Your nail technician in Mandarin can help you decide how often you need to come in for upkeep.
If you are looking for a nail salon nearby, Adrienne Michelle's offers many salon services, including full set manicures. You can learn more by visiting us at www.AdrienneMichelle.com or speak with us by phone at 904-329-2573.