Receive Your Certified Training for Online Yoga for Kids
|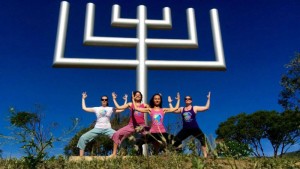 Learning online yoga for kids will help you to have a rewarding career that will help children to stay active, and more importantly healthy. The United States has a serious obesity problem that effects younger generations, and as a result, many children develop serious health conditions that can be lifelong. It doesn't have to be that way! With the proper training under your belt, you can make kids want to get fit by giving them an entertaining, healthy, and fun way to be active with their friends. The following are the benefits that children can gain from yoga if they have a knowledgeable instructor who cares and has the proper training:
Have an Alternative to Tuning Out Through Constant Attachment of Electronic Devices
Feel Part of a Healthy and No-Competitive Group
Increase Their Positive and Confidence Self-Image
Build Concentration
Manage Stress Through Healthy, Meditation, Awareness, and Breathing Movement
Learn How to Use Their Bodies in a Healthy Way
Develop Body Awareness
Teaching Kids Yoga Is Fun and Educational
In the never-ending battle to find activities for kids, there is one activity that is often overlooked. The exercise of yoga, which is also known to calm the problems and stresses of adults, is now being used to teach children good habits. Perhaps, more immediately, it can be used to calm down children after they feel especially rambunctious or after they have eaten. Teaching online yoga for kids can be fun and educational for children and adults simultaneously. Online yoga for kids is a teacher training course that will prepare you to teach deep relaxation, asana, meditation, activities, games, and much more.
Advantages of Being a Kids Yoga Teacher
When you choose to take an online yoga for kid's course, you gain many advantages once you become a teacher. You will be able to teach yoga in several environments, have yoga day camps and birthday parties, as well as learn behavioral management techniques. The benefit of taking an online toga course is you do not have to be a certified yoga instructor to take the training. You will learn everything you need to know during your month of being trained by a mentor that is chosen for you.