A New Concept in Facial Masculinization Surgery
|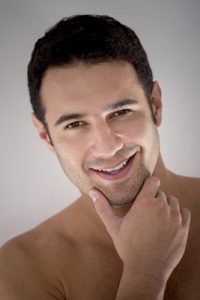 The face holds important visual cues about one's gender—which is why facial masculinization surgery (FMS) is such an important component of the physical transition process for many patients. While hormone therapy certainly plays a role in facial masculinization, transmen who would like to achieve the chiseled, well-defined features typically thought of "masculine" may choose to have FMS performed.
The facial structure of men and women differs due to the effects of sex hormones, such as estrogen and testosterone. Compared to a woman, the average man tends to have a longer face, a more prominent brown bone, a larger chin and nose, and a visible Adam's apple. For the best aesthetic results, FMS aims to modify these facial features while taking the patient's unique anatomy into consideration.
Facial masculinization is actually a fairly new concept in transgender surgery. Rather than just being one procedure, FMS is actually a suite of surgical procedures that are usually performed together. One of the great things about FMS is that it's completely individualized. Based on the unique needs and preferences of each patient, FMS can variably include forehead lengthening/augmentation, cheek augmentation, rhinoplasty, chin recontouring, jaw contouring, and thyroid cartilage enhancement (Adam's Apple surgery).
The surgeons at the International Center for Transgender Care use a person-centered approach when working with FMS patients. During the consultation appointment, your surgeon will assess your unique facial structure and discuss your goals for facial masculinization surgery in order to develop a personalized treatment plan tailored to your specific needs.
FMS usually takes about 6-12 hours to complete, depending on which procedures are included. At ICTC, our FMS patients typically spend one night at our surgical center and return home the next day. Some pain, swelling, and bruising is expected during the first week post-surgery, and most patients recover fully within 3-4 weeks.
For the very best results for your facial masculinization surgery, contact the experts at the International Center for Transgender Care at (972) 543-2477.