Mitchell Foot & Ankle: Your Local Foot Doctor
|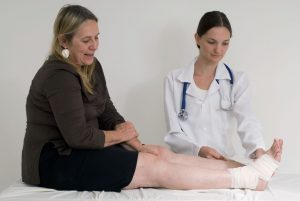 The total time you spend walking and standing calls for quality care of your feet, but who has time? Most of us wait until there's a problem before we find a solution. Mitchell Foot & Ankle is your local foot doctor on the south side of Chicago, making feet healthy and happy through targeted, comprehensive care and compassion perfected over decades of service to our Chicago neighbors.
Dynamic Foot & Ankle Care
Dr. Mitchell and Dr. Cowan possess more than 20 years of combined experience delivering foot and ankle care. Dr. Mitchell provides advanced surgical and non-surgical solutions to common and uncommon foot/ankle problems. Do you have ankle instability, unsightly warts, painful ingrown toenails or heel/arch pain? We can devise an effective plan to ease and, in many cases, eradicate whatever foot/ankle medical issues ail you.
Our foot doctor on the south side of Chicago addresses everything from ankle sprains and custom orthotics to geriatric foot care and poor circulation. In fact, Dr. Cowan focuses on the treatment of patients whose foot and ankle problems stem from a pre-existing condition, such as diabetes. Dr. Cowan also speaks Spanish.
No Problem is Too Big or Small
Mitchell Foot & Ankle is committed to helping you ameliorate any foot and ankle pain, discomfort or atypical medical condition you have. We treat inflammation of connective foot tissue, heel spurs, neuromas and foot infections of all kinds. Our seasoned team works synergistically to ensure you receive attentive, timely care in a welcoming, professional environment.
Reaching out to us is simple and discreet. You can give us call, or submit your contact information, a visit reason and a brief explanation through our online contact form. You may also download forms from our website, explore the insurance plans we accept and read testimonials.
We're housed in a brand new facility, expanded and outfitted with state-of-the-art surgical equipment. The facility is accessible by public transportation, and we also offer free parking and ground level access. For a foot doctor on the south side of Chicago, contact us today.